Posted in
Uncategorized
on August 11th, 2010 by admin —
Comments Off
Status of the Vineyard – we are now officially CLOSED
The vineyard is now officially closed and I will no longer be putting out the signs or keeping regular hours at the sales area. But, for those who would like to try one more time, I will open this Saturday, Oct. 4th, from 9 am to 1pm (weather permitting). If you can't make Saturday you can call me and we will arrange our schedules to meet at the vineyard.
There are still grapes to be picked, BUT they will be harder to find and it will take longer to fill a bucket, you will be "grape hunting" more than grape picking. The vines are going dormant for the coming winter and at some point all the grapes will be gone. We are at the end of the season.
I want to thank everyone who came out to our farm. We appreciate your business and hope that you had a good time and enjoyed the grapes. We hope to see you again next year.

I tried this last year and it seems to help. I will post a videos on how the vineyard looks at certain times during the season so you can keep an eye on the grapes. Here is the link to the videos:
Status of the Vineyard 8/9/14
Status of the Vineyard 7/15/14
Use your "Back" button to return to this page.
Don Loftus
Loftus Family Farm
386-461-1227 (home)
352-214-1028 (Don's Cell)
352-214-0974 (Ermy's Cell)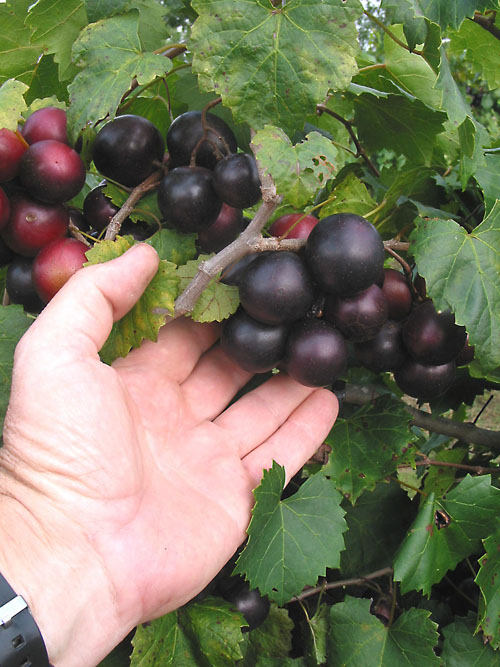 Greetings from Don and Ermida Loftus. We are a small vineyard north of Gainesville, FL specializing in dark Muscadine grapes and dedicated to U-Pick. Our main fresh fruit grape is the Supreme, a very large, thin skinned, very sweet grape. The other grape we grow, the Ison, is a self pollinating variety that produces a very sweet, slightly smaller berry that ripens early in the season. This grape also pollinates the Supreme vines which are female plants. I'm also adding a new variety of dark Muscadine called "Delicious" and was developed by the University of Florida. I just planted them this year, so we will have to wait several more years before they produce any grapes. I have an article about them Links page.
It turns out that Muscadine grapes have many health benefits and they taste good too. I have listed some of the articles on the Links page. Take a look and you just might want to eat a few more grapes.