Posted in
Uncategorized
on August 11th, 2010 by admin —
Comments Off
The Vineyard is Official Closed.
Loftus Family Farm is officially closed, there are NO more grapes. Today, Saturday, Sept. 10th, we had many people leave the vineyard after 20 to 30 minutes with empty buckets, they just could not find good grapes to pick. That means we are picked out. Some people came late and still went out to look around and they agreed, the season is over. Therefore, we are closed and will not reopen until next year.
This has been an unusual season for us and we have never closed this early. We are usually open until the end of September and sometimes until the first week in October, but not this year! There were several problems; First, we had more people picking. Several of the local vineyards have closed and we are about the only one open, so more people came to pick this year. Second, the hurricane "picked" more grapes than I thought, so volume was down. Third, we may have had a smaller crop this year, which would also make the amount of grapes available to pick less than last year. I noticed that several vines that were heavy producers last year did not make many grapes this year. Not sure exactly why, but it would have contributed to fewer grapes to pick.
I really do appreciate everyone who came out to our vineyard and picked this season. I hope you enjoyed the grapes. We will open again sometime is August, 2017. Have a great year!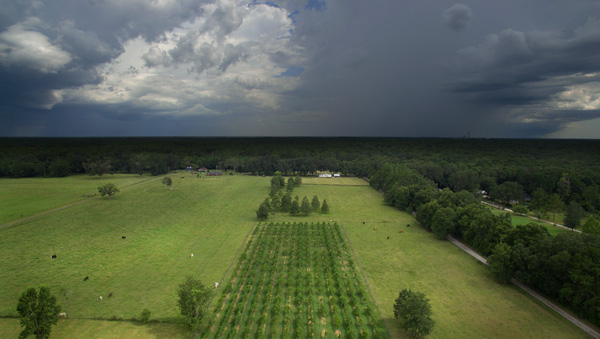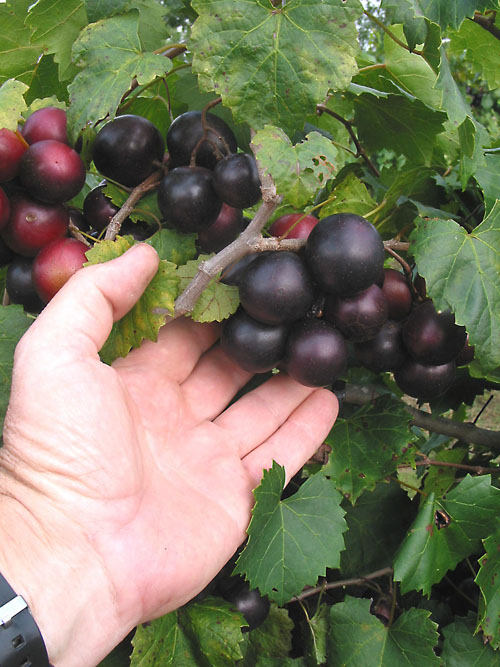 Greetings from Don and Ermida Loftus. We are a small vineyard north of Gainesville, FL specializing in dark Muscadine grapes and dedicated to U-Pick. Our main fresh fruit grape is the Supreme, a very large, thin skinned, very sweet grape. The other grapes we grow are the Ison ( a self pollinating variety that produces a very sweet, slightly smaller berry that ripens early in the season) and Delicious (developed by UF to be a very sweet, smoother tasting grape). These last two varieties pollinate the Supreme vines which are female plants. I have an article about the Delicious variety on the "Links" page.
It turns out that Muscadine grapes have many health benefits and they taste good too. I have listed some of the articles on the Links page. Take a look and you just might want to eat a few more grapes.
Don Loftus
Loftus Family Farm
386-462-1227 (home)
352-214-1028 (Don's Cell)
352-214-0974 (Ermy's Cell)