Posted in
Uncategorized
on August 11th, 2010 by admin —
Comments Off
U-Pick Muscadines are about 6 weeks away!
We are approaching the start of another U-Pick season. We have been very busy pruning the vines, mowing the grass, trying to control the weeds and taking video/photos of the vineyard. I posted a video below that shows what the vine look like at different stages as they come out of winter dormancy and progress toward harvest time. I replaced the toy quadcopter I had last year with a very professional unit and you will see some nice aerial shots in the video. Click on the lower right hand corner of the video to see it full screen, or watch it on YouTube to set your viewing settings. Change the viewing resolution to 720p HD by clicking on the little gear shape at the lower right hand corner also. The video will look better at the higher resolution.
I will be updating this page as the season progresses, so check back every once in a while. If you would like to be put on our e-mail list, use the "Contact Us" link toward the top right of the web page and I will send you e-mails as the season approaches and any important info during the season.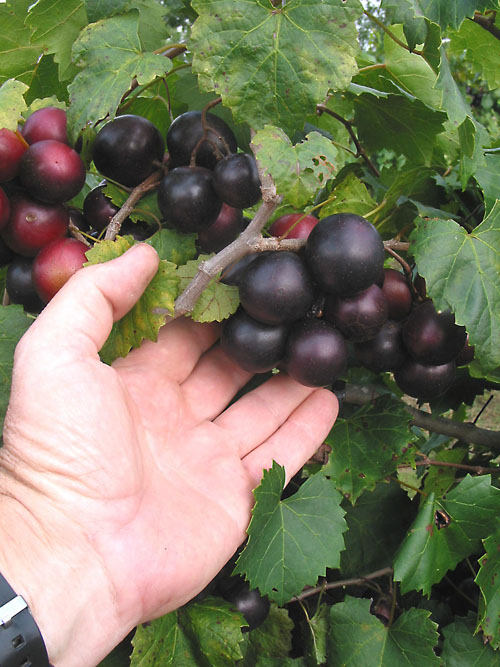 Greetings from Don and Ermida Loftus. We are a small vineyard north of Gainesville, FL specializing in dark Muscadine grapes and dedicated to U-Pick. Our main fresh fruit grape is the Supreme, a very large, thin skinned, very sweet grape. The other grape we grow, the Ison, is a self pollinating variety that produces a very sweet, slightly smaller berry that ripens early in the season. This grape also pollinates the Supreme vines which are female plants. I add a new variety of dark Muscadine called "Delicious" that was developed by the University of Florida. I have an article about them on the "Links" page.
It turns out that Muscadine grapes have many health benefits and they taste good too. I have listed some of the articles on the Links page. Take a look and you just might want to eat a few more grapes.
Don Loftus
Loftus Family Farm
386-462-1227 (home)
352-214-1028 (Don's Cell)
352-214-0974 (Ermy's Cell)